Discover more from Up With the Workers
Worker News from Minnesota
Worker Power
So Much GOING ON!
Workers have been flexing their power all over the Twin Cities. We can't even cover it all!!
Here is a rundown. (let us know if we missed something!)
---
EVERYONE LOVES A TEACHER (Except at the negotiating table.)
This week Minneapolis teachers and Education Support Professionals (ESPs) continued their strike. Their dogs came along.
We await the cats page. That would be purrrrrfect.
There has been a lot of impressive content and images. What's been your favorite?
Here is one of our favorites.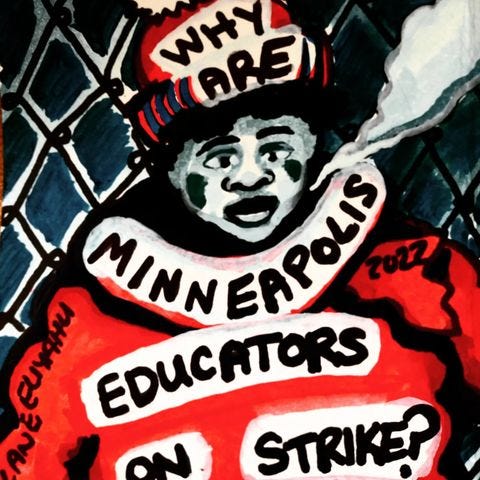 ---
With the weather mercifully ticking upward its a great time to show your solidarity. Head out to action this Sunday at 3pm. Check out the FB Event.
There is also a strike fund circulating.
---
Food service workers with SEIU Local 284 reached a tentative agreement on a three-year contract with Minneapolis Public Schools (MPS) Thursday afternoon after over 35 hours of mediation.
The win comes just days after the group announced a 10-day notice for a potential strike, which followed a vote where 98.5% of members voted to authorize a strike if no deal was reached. 
Highlights include:
Historic wage increase of $1 in the first year, $.75 in the 2nd year, with additional steps and longevity increases for long-term employees, with workers seeing wage increases up to 24% over the life of the contract

Retro pay for all of the gains

$2,000 cash payments in year 2, additional $1,000 in year 3

Improvements on life insurance & long-term disability, vacation accrual, retirement security and personal day
---
EEG Techs employed by Minnesota Epilepsy Group (MEG) rallied at MEG headquarters in Roseville on the final day of their 5-day ULP Strike. 
The healthcare workers, members of SEIU Healthcare Minnesota, began a 5-day Unfair Labor Practice (ULP) strike Monday morning and have been picketing throughout the week after unanimously voting to authorize a ULP strike in mid-February as bargaining stalled. 
---
The AP Reports that Public defenders are poised to go on strike as early as Tuesday. 
"Negotiators for the attorneys and the Minnesota Board of Public Defense are scheduled to sit down with a state mediator starting Friday in hopes of averting a strike."
---
WEH that was a lot.
One cool thing I read. This piece from The Nation on a possible way Starbucks organizing might shake up union elections.
Thats it for now. Remember to enjoy the sun's radiation and breathe through your nose.
---